SILK SCARVES * BANNERS * BELTS * BAGS * and more! NEW: Knotted and braided silk scarves! Custom order from: Uzushio@GMAIL.COM or browse in one of three McHenry County, IL store locations. Now also sold at the Illinois Artisan shop in Chicago! Or, order online and get free standard shipping within the U.S.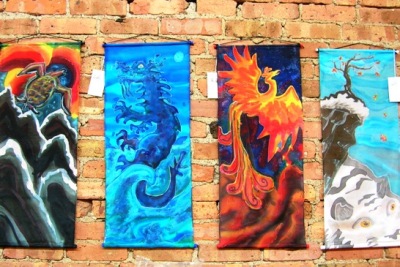 Chinese Banners - $250/set
Currently displayed at EVOLVE in downtown Crystal Lake, IL. Banners are 11"x30", mounted as wall hangings on painted wooden rods and hung by a black silk cord. $75/ea or $250/set. The Black Turtle, The Blue Dragon, the Red Bird and the White Tiger represent the four directions, the four seasons, and the four virtues of Chinese mythology.