SILK SCARVES * BANNERS * BELTS * BAGS * and more! NEW: Knotted and braided silk scarves! Custom order from: Uzushio@GMAIL.COM or browse in one of three McHenry County, IL store locations. Now also sold at the Illinois Artisan shop in Chicago! Or, order online and get free standard shipping within the U.S.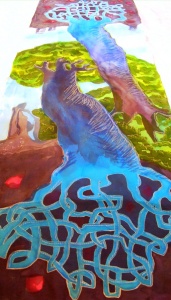 HOW IS SILK PAINTED?
Blank white silk is stretched on a frame with claw hooks, to form a taut canvas for the silk painter. Then, silk paint is brushed on using bamboo, acrylic and foam brushes. The silk paint spreads like grape juice on a tablecloth - so the silk must be painted quickly to achieve distinct patterns. For more detailed pictures such as this Celtic Blue Ash scarf, water-based resist is used to draw the design - containing the silk paint within the drawn areas.