Uzushio Silks artist Susan Sieber is now offering cotton and rayon handpainted clothing! Email her at Uzushio@GMAIL.COM to order.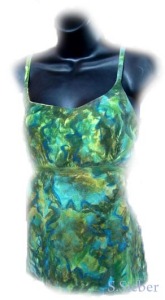 Rayon Tie Shirt - Oak Leaves
Blues, greens, and golds handpainted in an oak leaf pattern on the Rayon Tie Shirt. Order your custom shirt now for $75, with free shipping!