Uzushio Silks
(oo-zoo-shi-o)
Handpainted
Wearable Art.
100% Silk.
Click
here
for Silk Gallery.
Need to pay for a silk scarf or custom order? Use the orange button to check out.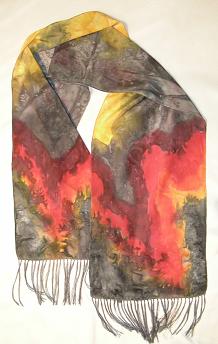 Inspired by Tiger Iron
Email
for custom orders
or more info.
Free shipping
within the
United States.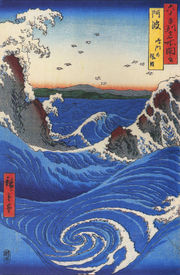 Hiroshige print of the Naruto uzushio
Why "Uzushio"?
Uzushio means "whirlpool" in Japanese. Silk painter Susan Sieber lived for a year in Naruto, Japan, near the famous Naruto Uzushio - the Naruto whirlpools formed with the changing of the tides - and was inspired by that force of nature, and also by the beautiful forested, hilly countryside around the town. Japanese design elements and images often show up in her work. The prefecture she lived in, Tokushima, is famous for its indigo dying and silk shibori (fold-dye) techniques.
handpainted rayon, cotton, and silk tops from $75~

Love the scarves?

Want to wear those fabulous colors all year round? Then check out a sneak preview of Uzushio Silks

new rayon and cotton handpainted tops Here!