Try drawing from photos or from real people -- not just from manga.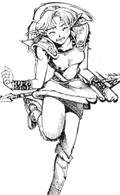 Here is an action pose from the 'Record of Lodoss War' manga, which doesn't look quite right. She is supposed to be running toward the reader, but if you cover up her facial expression... she looks like she is dancing.
Always sketch out the basic pose first. If you start drawing a really detailed arm, then decide later you want the arm a little to the left -- you're in big trouble! Draw a stick figure or skeleton to start, then add details once you have the pose just the way you want it.
In this example, I traced the original manga pose (shown below, left), then found a runner's magazine so I could see how a real live person runs (center). I combined the two poses into a new pose, and sketched it (far right).